It's the question business owners have been asking throughout history: how do I get more customers to come to my business? In ancient times, signs in the marketplace and loud merchants might have been the best way to get attention. More recently, in the 1900s, getting a large, catchy ad in the phone book was the way to go. Now, we've moved into the digital age, which means the best strategy for attracting local customers is no longer a printed phone book. Instead, if you want to attract customers, there is one ideal strategy: Local SEO.
The Difference Between Traditional SEO and Local SEO
One problem that I have noticed in the SEO world is people confusing the strategies of Traditional SEO and Local SEO. Both forms of SEO have the same ultimate end goal: trying to a get a search result to rank higher on search engines. However, just because the end goals for each are the same does not mean the strategies for each are the same.
Related Content:
Traditional SEO, particularly for Google, is structured heavily around link-building. You want to attract as many links as possible from other sites back to your own website. Industry-leading sites like Moz and ahrefs have developed their own tools specifically to track the backlink profiles of websites. Here, elements such as anchor text and linking domain authority are crucial to having a successful SEO operation.
Local SEO is a very different story. With Local SEO, you are focusing much less on link-building and much more on citations and NAP distribution (more on this below). This is not to say that Traditional SEO strategies have no place in Local SEO. Having a well-optimized site is still important for appearing in organic search results at all, whether that result is an organic search result or an entry in a local pack.
The fundamental differences between Traditional and Local SEO practices can be boiled down to four basic principles that I call the Local SEO CQNS (pronounced "sequence"): Consistency, Quality & Quantity, Notation, and Social Signals.
Consistency
The first key to success for local SEO is understanding NAP. NAP stands for Name, Address, Phone Number and is the core information used in citations. Citations are any instances on the web of your NAP information. You can find these citations in any number of places, ranging from the obvious directories like YellowPages and the Chamber of Commerce, to Yelp and smaller local directories.
One of the clear signs to Google that a business has a trustworthy local presence is having a consistent NAP across the web. As Bill Slawski, Director of Search at Go Fish Digital explains, "Having this geographical information consistent from site to site can help give certainty to the Search Engines that the business locations they might include in their Maps pages is correct."
Though the full effectiveness of NAP consistency is debatable and constantly subject to revision, some estimates suggest that NAP consistency can affect as much as 50% or more of ranking performance for Local SEO. That's huge! Imagine just how much traffic you can lose simply by having the wrong phone number or street address listed for your business – both from decreased rankings and customer confusion.
In addition to being one of the most important factors for ranking performance, NAP consistency is also one of the most frequent sources of ranking issues among local businesses. If this is the case, you're in luck: not only is this an easy issue to identify, but it's also relatively simple to update and fix. Various tools (like the ones outlined at the end of the article) can help you find and identify where your business is listed on the web, as well as help you push accurate information to business directories.
Quality & Quantity
While having consistent NAP is important, it's also important to have this NAP citation spread around the web. Unfortunately, as is the case with much of the SEO world, there is no unanimous consensus on the best way to achieve this. A survey conducted by Brightlocal in 2015 of Local SEO experts found that a majority believed the quality of citations to be more important than the quantity. However, this can be a slightly misleading finding to those familiar with Traditional SEO.
As the chart below (from that Brightlocal survey) illustrates, "quality" is not synonymous with "domain authority". When gauging the quality of a citation directory, the most important factors to consider are its relevance to the industry and its relevance to the location. Listing your California florist's business in https://new-york.eat24hours.com/, even though it has a domain authority of 68, will probably not help your local SEO efforts.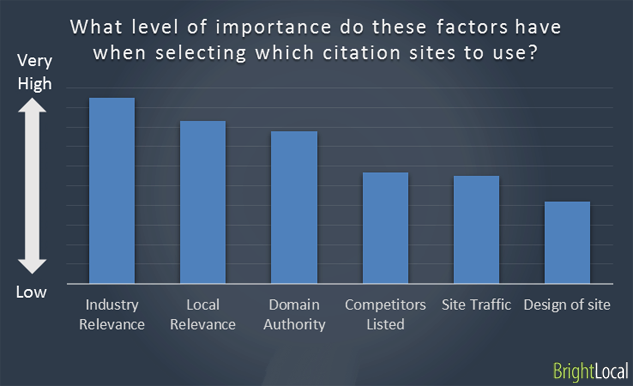 Once you have identified those "high quality" directories, the next important element is quantity. You want to disseminate your NAP citation to as many of those directories as possible. The more times search engines find your citation information on those high-quality directories, the more signals that send to those search engines that your business is a reliable and trustworthy listing.
Notation
I will freely admit that this is probably the weakest name to fit into my "CQNS" acronym, but it does provide an umbrella category for this third Local SEO element: Notation. As this survey by Moz discovered, industry professionals believe one of the other most important factors for Local SEO aside from NAP consistency and dissemination is on-page signals. Search engines want it to be very clear what your business does, what services or products it offers, and what search categories it should fall under.
There are a number of ways to accomplish this. One way is to include important keywords in your business title (for example, "Ms. Love's Florist Boutique" is much better optimized than simply "Ms. Love's"). Another way is to incorporate schema markup into your website. Schema markup are code snippets that communicate clear and distinct aspects of your business to crawlers.
Schema.org has a range of different schema you can use for this purpose. Organization schema, for example, allows you to include that all-important NAP information on your site and even indicate what geographic areas your business serves. Beyond the Organization schema, LocalBusiness schema can take that even further and allow you to include accepting payments and operating hours.
It's important to note that you should not rely purely on one form of notation. Bill Slawski noted in his analysis of the original Google Local patent that Google collects and merges data in structured, unstructured, and semi-structured form. While including schema markup on your site will help provide structured data, it's important to also include other notation signals like a Business Title and Business Categories for the unstructured and semi-structured data.
Social Signals
Although social signals are viewed as carrying the least weight as a Local SEO ranking signal currently, there is substantial debate about their overall impact on Local SEO. Clearly, having a large social following plays an indirect role in SEO efforts in terms of driving traffic, repromoting content, etc. The main area of dispute is about whether social sites have a direct role on Local SEO. Matt Cutts indicated back in 2014 that Facebook and Twitter signals are NOT part of the ranking algorithm for search results. However, Google+ is indisputably an important indicator of citation consistency, and recent trends suggest that Facebook and Twitter might serve important value as high-quality directories.
In addition to that, Moz's survey suggests that Review Signals (quantity of reviews, diversity of reviews, etc.) can also have an impact on Local SEO. As the image below shows, Facebook provides the ability to leave reviews for local businesses, which gives it another possible advantage as a Local SEO ranking factor. It would seem that having a presence on social media sites and review sites is like owning a car: you may not enjoy the upkeep and maintenance, but it makes it a lot easier to get around when you do have it.
Tools
I use a number of tools to help organize and build strategies for Local SEO campaigns. These are the four that have helped me the most:
Moz Local and Yext are the two benchmarks for pushing citations to directories. Moz Local has access to 10 of the highest quality directories, while Yext has access to over 60 directories that cover a range of different business categories. Between these two tools, it is easy to cover your bases with the "Quality & Quantity" aspect of citations.
Brightlocal and Whitespark are two other tools that, in contrast to Moz and Yext, are excellent for tracking down the citations you already have. Though Brightlocal and Whitespark offer citation-pushing features as well, Moz and Yext have much better success with this. If you want to know everywhere your business is being listed, however, Brightlocal and Whitespark are excellent tools for tracking down directory listings.
Hopefully Local SEO does not sound daunting or intimidating at this point. Though Local SEO requires a slightly different strategy, it employs a similar key principle to that of Traditional SEO. In Traditional SEO, you want to publish content relevant to your business that customers are searching for. In Local SEO, you want to make your business findable for the services your customers are searching for. The CQNS process is just a means to that ultimate end.
Search News Straight To Your Inbox
*Required
Join thousands of marketers to get the best search news in under 5 minutes. Get resources, tips and more with The Splash newsletter: